20th October 2023
Autumn has arrived early this year with plenty of strong winds and rainfall along with cooler temperatures than in recent years. Rainfall figures from July to September were 66mm, 86mm and 82mm and reading 94mm so far for October. So plenty natural H2O which has helped restore some much needed moisture to the soils after the early summer dry weather. The course has greened up and grass cutting for the latter part of this summer was much more regular than since 2018 onwards. Our roughs again have not been cut mid summer which is good and helps maintain character and challenge.
During the summer we sand top dressed our weaker fairways which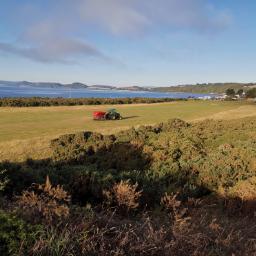 helps dilute fibre and in turn promote better soil characteristics for fine grass to tiller into. Some more selective sanding will go on.
Recently we have again had the use of Castlestuarts' seeding machine and drilled in seed to fairways 1,2,3,4,7,8 and 12 along with a few tee walk-offs. We have used a seed mix containing 20% Hard Fescue and 20% Sheeps Fescue along with other more common Fescues. The 'Hard' and 'Sheeps' component in the mix are cultivars that are better suited to droughty conditions which seem to cope well and survive even in very warm weather. We were a couple of weeks later in getting the machine this year although ground conditions were much better for getting the seed in the ground.
Our teeing grounds have also been scarified and seeded mid September and along with an Autumn feed are looking pretty healthy at the minute.
Work to the greens has included a nail tining down to 4" with our new Gxi8 spiker during mid September and recently a close 19mm shallow cone tine with a blend of fine Fescues broadcast into the holes. This was followed by hand dressing with Kings dune sand and then all brushed into the holes creating the perfect environment for the Fescues to germinate. Moisture and some mildish weather over the next month would help. This short term disruption is essential in the on going promotion of increasing the percentages of finer grasses in our greens. This week we've applied an Autumn feed to the greens with a 4.3.4 analysis with added Calcium and magnesium. This is geared to providing some nutrient to the new seedlings and also help keep turf vigor and any moss at bay. Next up we will be deep slitting and then verti-draining with 1/2″ tines to loosen up the soils and help drainage and root growth.
Moving into the winter months it is intended to verti-drain and slit tine the fairways and also spray with a Calcium/magnesium nitrate/iron mix to give them a little perk up and help deter moss.
We have also highlighted a couple of possible bunker additions at the 2nd and 8th holes. These are marked out in there locations with blue pegs in the ground. The reasoning for an additional bunker on the right of the 2nd is to frame the drive better since the whins were taken away a few years back. It would be roughly 25 yards short of the present bunker making it 245 yards from the Black tee and 220 yards from the White. The dogleg 8th hole has become obsolete for the longer hitters and is only 215 yards to carry from the White tee. The longer hitters are even carrying it from the Black tee! It is proposed to add another bunker a further 25 odd yards just past the corner of the dogleg on the left which would make it 240 and 265 from White and Black tees. The present large first bunker could be turned into a less penal grass bunker as it is mainly the shorter hitters that end up in here.
Our winter programme will again consist of repairing broken down bunker faces in which we hope to do around a dozen. Our long roughs will be cut and collected shortly. Selective whin trimming during poorer weather with also another couple of sections taken out along the 1st bank.
An additional water tank is to be installed close by our present tank to facilitate future water requirements should we decide to add irrigation pop ups into seven of our fairways.
Some recent roping off of high wear areas is essential in spreading the golfing traffic and help these bits recover for next season.
Enjoy your winter golf!
George Paterson
Head Greenkeeper