8th July 2021
Firstly glad to see that our wild flower display at the back of the 1st tee has matured nicely. This area was a bit of a mess last year after the porto cabins left after the building project. Shingly material was dispersed throughout and any weeds treated thereafter. A 1kg mix of 25 different species containing 40% Annuals, 5% Biennials and 55% Perennials was then sewn out over a sand layer in October last year and then rolled in. It looks like mainly Wild Poppys have come up but other plants such as Yarrow, Columbine, Borage, Harebell, Cornflower, Vipers Bugloss, Wild Candytuft and Forget-me Knot are included so there should be a show of colours to keep the bees happy for a while yet. (Euroflor Britannica mix)
The course. As with many golf courses the weather plays a big part in how the course looks and plays. This spring and early summer has been quite difficult for us in that April was one of the coldest and driest months on record followed by a cold and wet May. June has given us some warmer temperatures, very dry and with persistent Northerly winds. This has dried up the course dramatically and has looking very linksy for the past month now. The greens have been a little slower to fill out this year as a result but are running truer and quicker now since the spring feed has tailed off and seeding has abated. Verti-cutting to refine and sand dressings to improve levels and firm up have each been carried out four times each this season so far. Height of cut is at 3.9mm just now and will be lowered a little more in the lead up to the Black Isle Open and beyond. The greens were becoming a little hydrophobic at times with the wind and sun as we were delayed in getting our third wetting agent application on. This was sprayed on on Monday this week taking advantage of some overdue showery weather.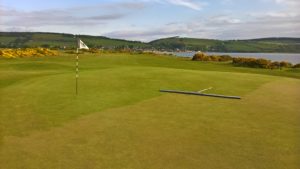 With the recent dry weather cutting has eased off a bit on the fairways and are only being cut as necessary to avoid any unnecessary additional stress. We have been relentlessly patching and tidying the fairways each week this year with the high level of play and birds turning over divots in search of Leatherjackets. Warne, our new summer labourer has helped greatly along with our staff in keeping the place neat and tidy. We intend not to broadcast spray the fairways for weeds again this year and just to spot treat with the knapsack over the next few weeks. Mainly isolated plantains to deal with here and there. The greens surrounds were blanket sprayed back in early June treating mainly plantains, daisies and bits of clover.
Our tees are looking reasonable although a little stressed and hard recently. They have been getting a little irrigation to keep some growth going and today were given a slow release granular feed of  ProloNg 16.2.10 which has worked well in the past. They also have been weed treated  and received a wetting agent application this week to help maintain moisture levels in dry weather.
Other little jobs we have been doing are treating the bunker tops and bits of aprons with a graminicide to clean out little Rye and Yorkshire Fog clumps.
So we have it pretty linksy early on this summer but could do with a few days of decent rain to re hydrate our soils and perk the grass up a bit. The tall roughs are maturing and playing tricky should you go into it and normally we would cut and collect an intermediate rough shortly which we intend to do.
Enjoy your golf!
George Paterson
Head Greenkeeper