December 18th 
Winter this year has yet to arrive with only a couple of very light surface frosts to date. Will it bite us in the new year? as seems to be the case in recent years, we'll have to wait and see! Sept/Oct/Nov rainfall readings were 50mm, 120mm and 41mm and 82mm for December so far. October was dreadfully wet and the biblical rain a couple of weekends ago rendered the course unplayable. It would be nice to get some settled and clear weather, good winter golfing weather through the holiday period, fingers crossed.
The golfing season this year extended into November and we had a wee break to get the greens verti-drained and rolled during late October. This deep aeration helps the greens drain and develop strong roots which in turn favour the better grasses. A follow up deep slit was completed lately which is an alternative form of aeration which also root prunes through the tines slicing action.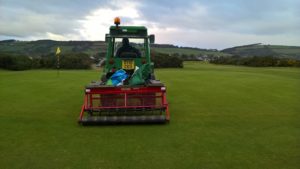 Micro hollow tining is planned for around mid February. Fairways and greens surrounds have also been slit with some fairways receiving a sanding also. In November we sprayed Iron to all areas apart from the longer roughs in our combat against moss and this will be done again in the spring along with some Ammonia (Nitrogen) and wetting agent.
Bunker work is ongoing and four have been completely revetted so far this winter.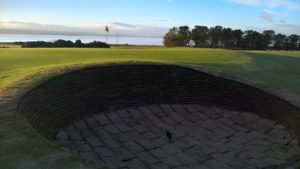 Up turned turf is used in the bases to both provide a firm base and also to keep stones from coming through. These will be topped up with sand around early March and brought into play for the first competitions. Proposal – The twin bunkers on the 15th fairway have been earmarked for a redesign into one large bunker. Back in the early 90s this was to be the case but while digging out the bunker we came across the irrigation pipe and had to split the bunker into two. The new irrigation line now runs past the right hand side of the bunkers therefore allowing these bunkers to be improved and made into something more aesthetically pleasing.
4th hole sand scrape.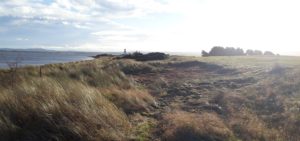 The large obtrusive section of gorse has been removed to open up the fairway view from the tee. The natural sand base has been exposed to create an in play sand scrape and this will both help speed up play and allow you to see where your ball goes.
Gorse removal.
We have cut back the bushes behind the two bunkers right side of the 18th fairway. Intention here is to remove the stumps and return to a grassy bank as this hole is penal enough without more trouble around the green. Last winters planned removal of sections of gorse along the ridge between the 3rd and 13th holes did not happen but we will hope to get this done over the next couple of months when some frostier weather appears?
Enjoy your winter golf and keep those winter fairway mats and pitch forks to good use. Thank you.
George Paterson
Head Greenkeeper