TIS Irrigation contractors finished the installation on 7th May. The work was carried out diligently with very little disruption around the greens and tees. A 90mm MDPE ring main was installed generally in the rough and 63mm spurs led to the valve boxes. From here 50mm pipe was fed to each sprinkler along with the new cabling.
We opted to go for Rainbird 751 electric valve in head sprinklers around the greens which gives us individual control of each sprinkler. This can be programmed from the controller in the maintenance shed office and each sprinkler set to a set time depending on its required coverage. We can now apply water to the aprons and approaches with some simple arc setting and adjusting watering times to suit. Another plus with these sprinklers are that they can have a fan tail nozzle fitted which will cast out a fine spray to the rear of the sprinkler and stop these bits from drying up.
On our tees we re-utilized the sprinklers that were on our greens along with other tees sprinklers that were still in good condition. These have been set in to the sides of the tees and some further outwith so as to provide optimum tee watering coverage and also heavily trafficed routes nearby.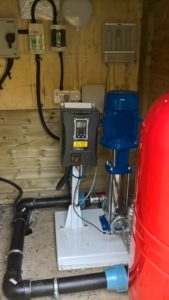 The installation included a new galvanized water tank and a variable speed pump which will keep the system pressurized and only work when demand is required, thus saving electricity. We erected a new and slightly bigger shed for the pump house.